Sauer 90
Calibre: Win .308

Technical motives
- Reliable technique (-have been used in -25 C).
- Detachable magazine (quick and safe load / re-load / unload).
- Load and unload while locked.
- Free floating barrel (best long-term precision).
- Safety (knob) at same place as shotgun.
- Adjustable trigger.
Sako Super Hammerhead
Weight: 10,1 g (1xx grains)
Vo: 850 m/s

Technical motives
- Perfect expansion for moose as well as for roe deer.
- +/- 4 cm deviation in height for distance 0 - 210 meter.

To choose your hunting equipment is subjective. The only thing I want to stress with this is that you should know why you make your decission. The competition between the brands is enormous and it is the buyers market,
but don't let the price be the single factor.

Go out and make your choices - but know why...
Carl Zeiss
Diavari VM/V 3-12 x 56 (with reticle illumination)

Technical motives
- Hunting possible in al light conditions!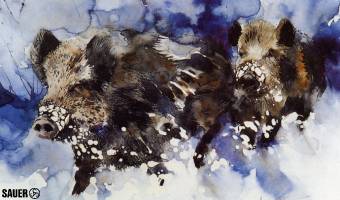 Beretta
56 E (12 gauge)

My opinion is that shotguns are less technique
and more feeling. Therefore I would like to refer
to an email exchange instead of explaining it
myself:

Luca,
Hope you have some time out to be able to reply to me, I guess your a busy man. My question is... I recently went to a shoot where one of my collegues was using a Berretta 56E, which he explained was not made any more. But, It looked beautiful and it is up for sale... Is there anything else you can tell me about this model? Many thanks Stewart Colgrave.

Hi Stewart,
Your friend is right! The 56 E is an old model made probably around 30 years ago. I'll be honest with you.... that is the gun (and I still have it) with which I started shooting in 1971! Mine is a 20 ga. and it's still working properly and is not showing any sign of elderness! To tell you more, my son Lorenzo, now 12 y.o., has just started shooting that gun again. I owned that gun for 27 years now and I'm more than happy with it! After that model (the S56/57/58) there has been the S680 series which comes from the same concept and it is still on the market today with the S682/S686/S687 and so on. The quality is not in question and the spare parts availa-bility is still very good. I wouldn't pay a fortune for that gun but I would be surely interested as it's definitely a beautiful gun. The silver action, the engraving, the gun itself are surely worth to be considered. I hope this answer to your question.
Yours sincerely Luca Scribani Rossi

Who is Luca Scribani Rossi?
Luca, is an Olympic Medallist and twice World Champ-ion shotgun shooter. Skeet and sporting clays is no stranger to Scribani Rossi! Mr. Rossi, is acknowledged as one of the leading world champions in his field. He was a member of the Italian National Team from 1997 and the Italian Olympic Team from 1979 to 1992 and has also had wide experience in tutoring tutors, and, training teams for international competition!