Do you want to comunicate without
CIA or KGB interfering? Use PGP!
+46 8 756 76 56
+46 70 720 33 15
email:
liszka@transit.se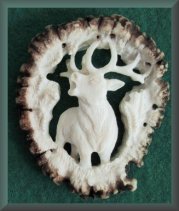 This is a "3-D" Red deer, carved out of its own horn.
It's made by a friend in Hungary. A masterpiece!
It meassures 7,5 cm high and is 6 cm wide.


If you want to link to my site,
please use one of these buttons.



Björn Liszka
Tallkottsgränd 12
SE-187 64 TÄBY
SWEDEN